WHAT DOES THE FAIR2FEET SEAL MEAN?

The fair2feet quality seal is awarded after a successful audit (testing) of the shoe model. The audit is carried out on the basis of the fair2feet quality system. The fair2feet seal serves the customers of the shoe trade, online or stationary, as an aid in the search for a suitable shoe suitable for the respective need.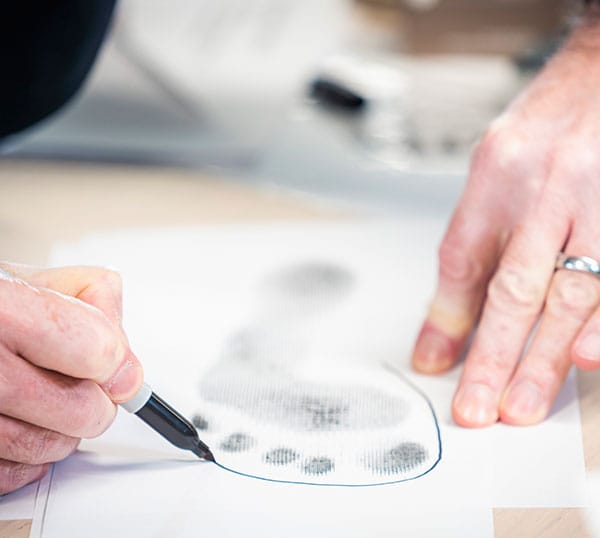 In particular, a sufficient length of the insole, taking into account the necessary advancement space, and a sufficient or suitable technical bunion width and bunion width are necessary. The forefoot shoe must be designed in such a way that it gives the toes, especially the big toe, the anatomically required space and allows the natural direction of the toe position. The condition of the bunion base in the forefoot is particularly important with regard to its stereometric design: to suit the foot, the crown of the shoe, measured in the intersection between the ball of the big toe and the ball of the little toe, should have no convexity or only very limited convexity.
How is the testing of the shoes performed?
The completely independent fair2feet - Institute for Quality and Certification first carries out a computer tomographic recording of the shoe models. Based on the CT images, a digital measurement of the shoe interior is then carried out. The results lead to the transparency of the interior dimensions of the finished shoe, measured in millimeters. Finally, by comparing the actual measurements obtained with the manufacturer's size specifications and with the recommendations of the relevant international standards (ISO), dimensional accuracy can be assessed.
The shoes are then subjected to an orthopedic audit using the fair2feet criteria catalog, which leads to a final point value result with a summarized utility value analysis. If the audit is completed successfully and a correspondingly high score is achieved, this is the basis for awarding the seal.