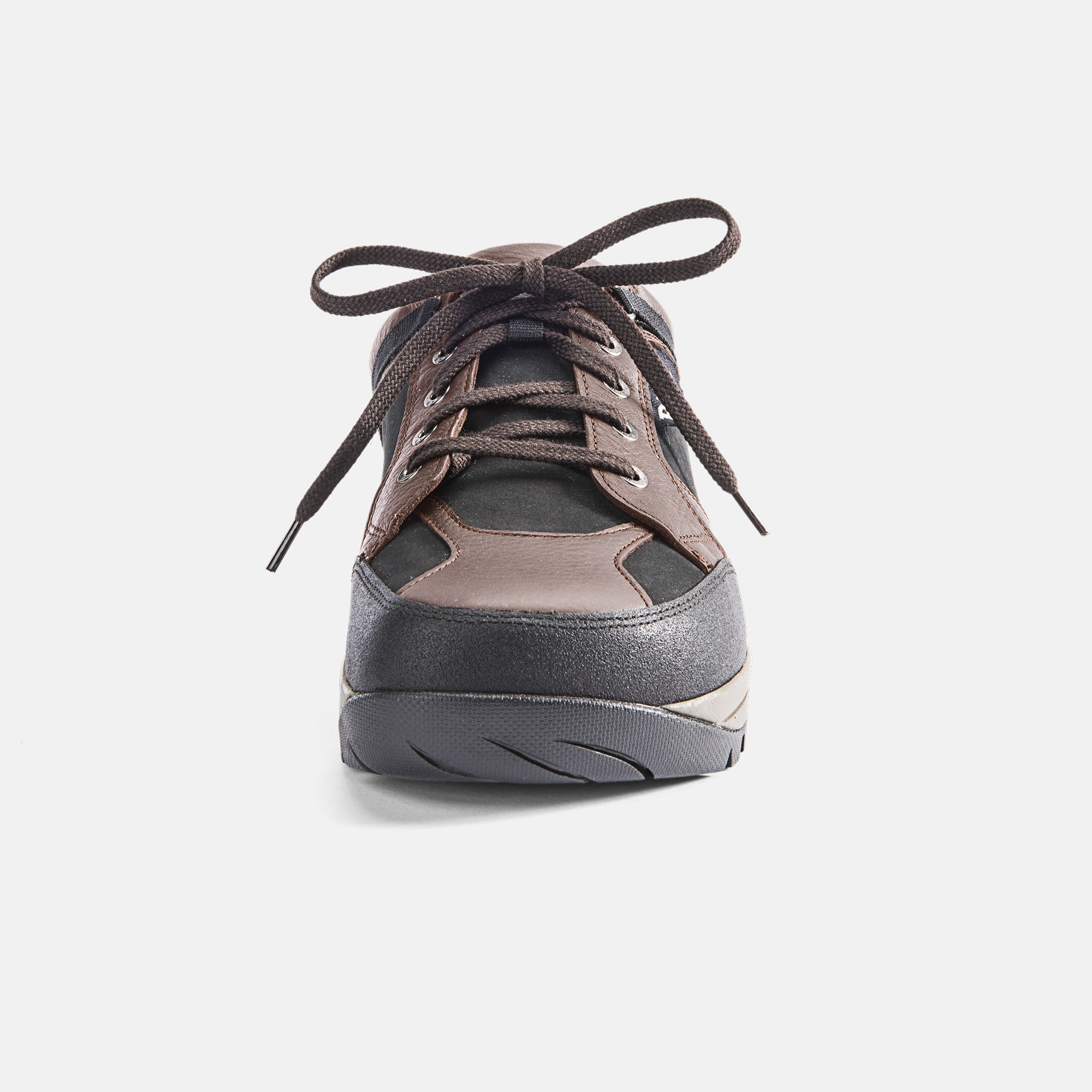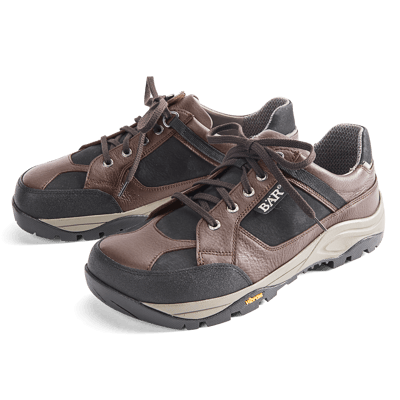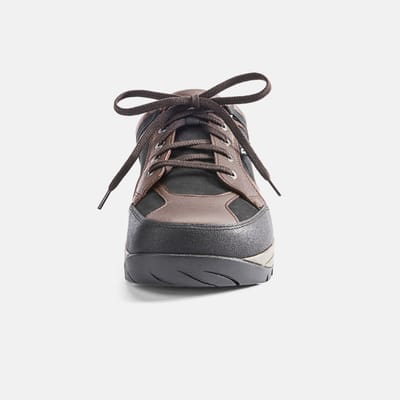 TE-Trekking 2.0
Item number:
1023-263-12,5
Hiking often means spending several days tackling difficult terrain without a set accommodation. Serving as your very own wellness resort, "TE-Trekking 2.0" relieves strain, provides exceptional support and promotes active walking with first-rate traction.

Weight: 451 gram in size 6,5
Highly efficient hiking shoe with temperate-regulating calfskin lining
You can find detailed advice on buying your hiking boots and all the important facts here: Hiking shoe tips from BÄR
Details
Fit
Normal to wide foot shape
Lining
Calfskin/heel textile
Removable footbed
Removable, textile-covered 6 mm Resilience foam footbed with joint support
Upper material
Materialmix
Outer material
Cowhide nubuck leather Textile Yakskin leather water-repellent
Soletype
Dynamic rolling thanks to grippy Vibram® Cross sole made of lightweight PU with 6 mm rubber profiling
---
Dies war mein erste Bärschuh und ich trage ihn immer noch gerne. Leider sieht er nach 11 Jahren und nach dem er zweimal neu besohlt wurde, nicht mehr so gut aus. Ich hätte ihn mir gern noch einmal bestellet, aber leider wird die Produktion eingestellt.
Ich habe den Vorgängerschuh über 10 Jahre lang mit voller Zufriedenheit getragen. Nach einmaliger Reparatur war es an der Zeit einen neuen Trekking Wanderschuh zu kaufen. Der "Neue" ist mir trotz dicker Socken immer noch im vorderen Bereich zu groß. Bei gleicher Größe 42. Meine Frau und ich kaufen seit etlichen Jahren nur noch Bärschuhe. Da wir immer sehr zufrieden waren, haben wir im Bekanntenkreis auch viel Werbung für Bär Schuhe gemacht. Und dies auch mit Erfolg für ihre Firma. Nun bin ich echt enttäuscht. Ich habe nun zusätzlich Vorfuss-Halbeinlegesohlen 4mm Standart bestellen müssen um das Problem vielleicht zu lösen. Das sind für mich unnötige Kosten. Denn der Schuh ist an für sich schon teuer genug. Dies zu ihrer Information Mit freundlichen Grüßen Herbert Zinke Ich bin nun ca. 50 Km in mehreren Etappen mit dem neuen Trekking- Schuh gelaufen. ( Mit zusätzlichen Vorfuss-Halbeinlegesohlen ) Heute kann ich sagen, dass sich der Schuh meinen Füßen mehr und mehr angepasst hat. Das Wohlbefinden hat sich eingestellt. Das muss ich Ihnen mitteilen und fair bleiben. Mit freundlichen Grüßen Herbert Zinke
Mein erstes Paar Bär Schuhe, durch Zufall im Internet gefunden. Ich habe kleine, aber breite Füße, habe nur wenige Schuhe, in denen ich nicht meine kleinen Zehen wund scheuer und das auch erst nach langem Einlaufen. Die TE Trekking angezogen und los gelaufen, eine Wohltat für meine kleinen Zehen. Mag keine anderen Schuhe mehr anziehen.
Während meiner mehrwöchigen Pilgerwanderung Loccum-Volkenroda 2017/18 durch teilweise tiefgründiges und matschiges Gelände, über steinige und mit umgestürzten Bäumen verlegte Waldwege haben mich diese Schuhe sicher, blasen- und unfallfrei an die jeweiligen Tagesziele gebracht.
Pros: Wide, ligth, very confortable, the leather linning and upper is soft, beautiful, cool. Cons: I need constrict too much the laces, to attach the shoe. Rubber is too soft, and the sole studs are broken with ligth trekkings. Expensive. For me is better this sole, that the old sole of Transeuropa model. But now that Treviso model and Transeuropa have the same sole, I prefer the old sole of Treviso, Touring sole. More soft, but more resistant. In other way, the Leather is great, but I think is more resistant to use and water to manofacture with only one or two pieces of leather, with less seams. Enjoy of them!
Sturdy and very comfortable. My 1st choice for country walks and shopping in the town. Long lasting and well made.
Passform unverändert gut. Das Vorgängermodell enttäuschte bei Feuchtigkeit erheblich, dieses Modell ist viel besser. Aktuell mein Lieblingsschuh.
Sehr bequeme Schuhe mit einer guten und griffigen Sohle. Die Querkante an der Zunge stoert mich ueberhaupt nicht. Mit duennen Socken hat man vielleicht etwas viel Raum im Schuh aber das ist allemal besser als zu enge Schuhe. Mehr kann ich nach ein paar Wochen noch nicht sagen.