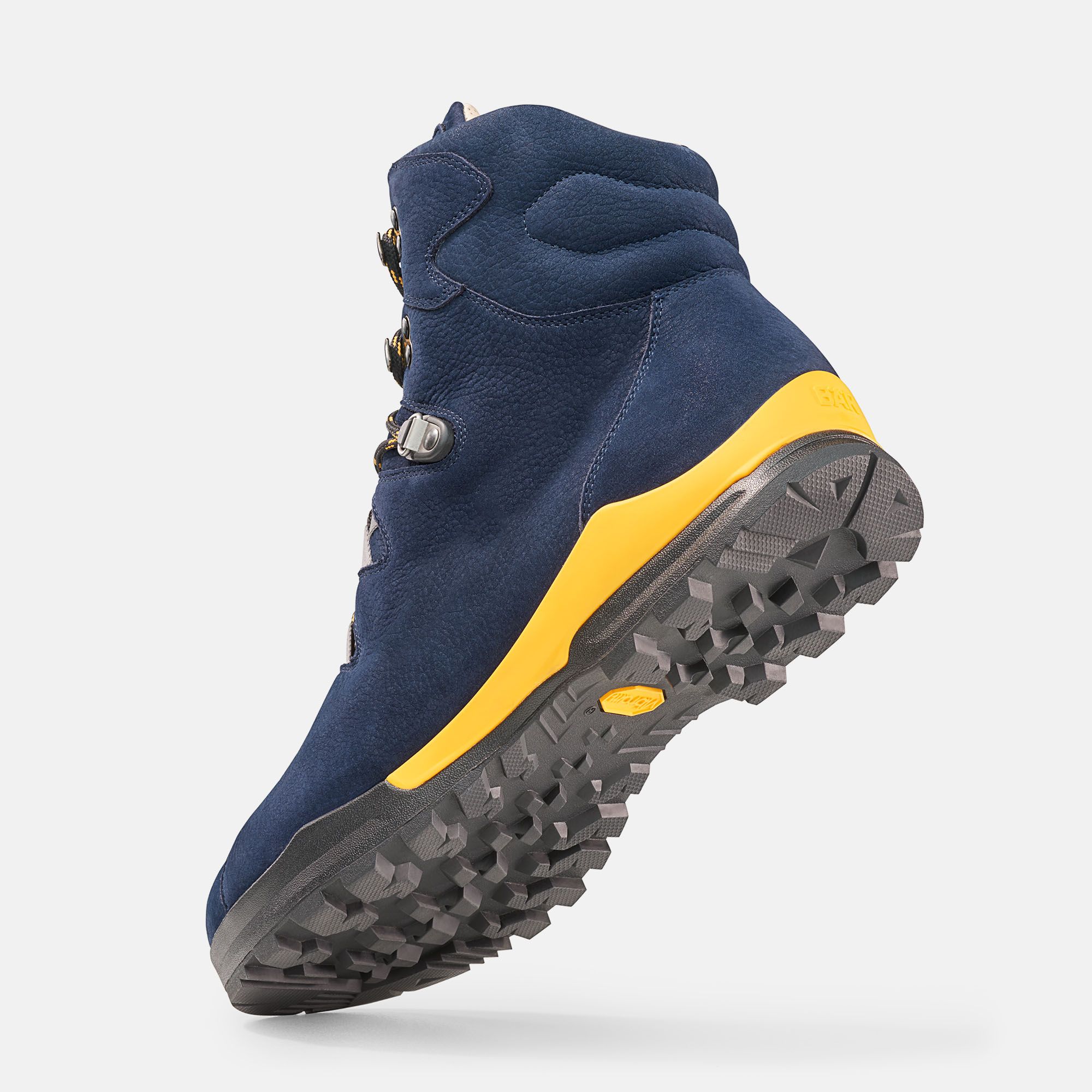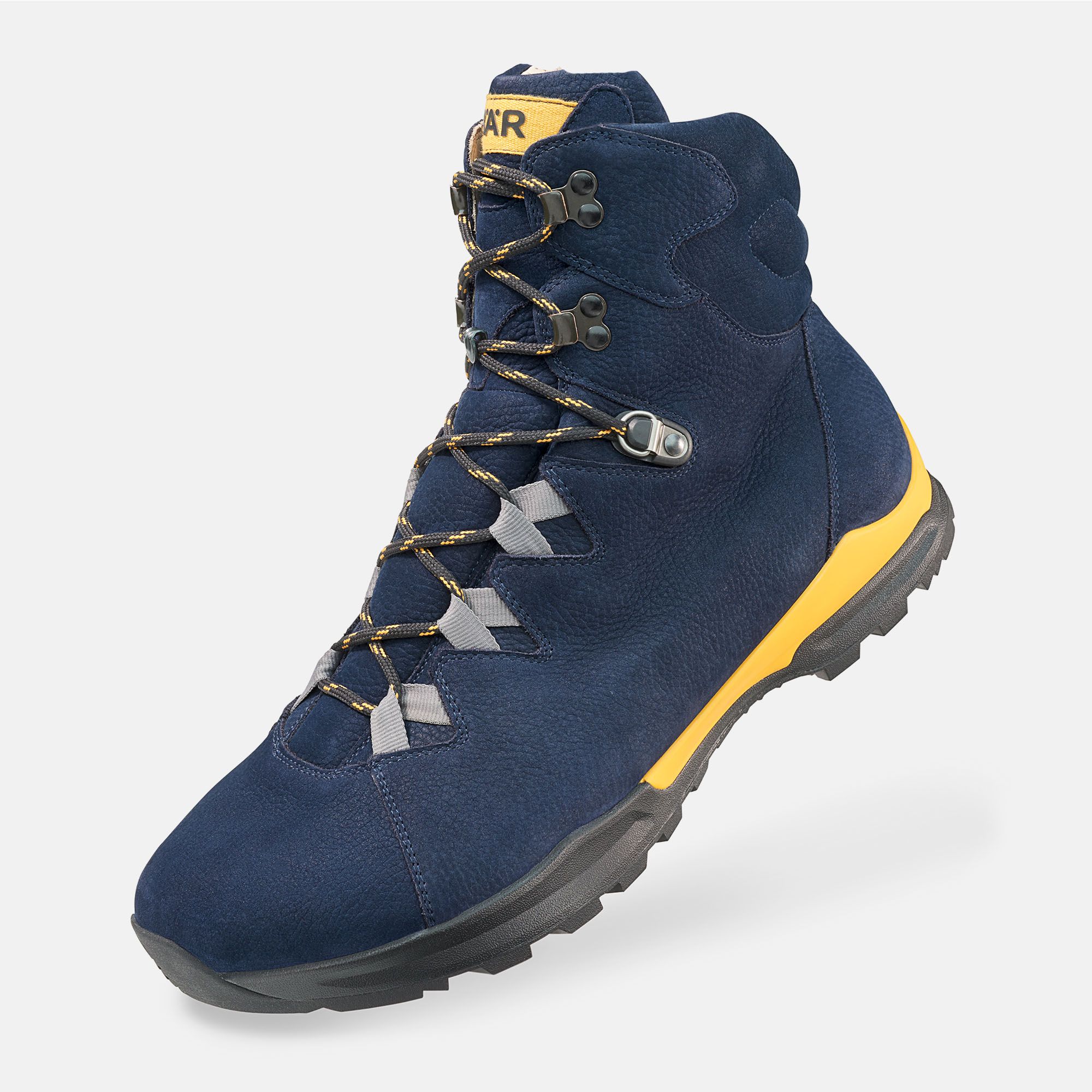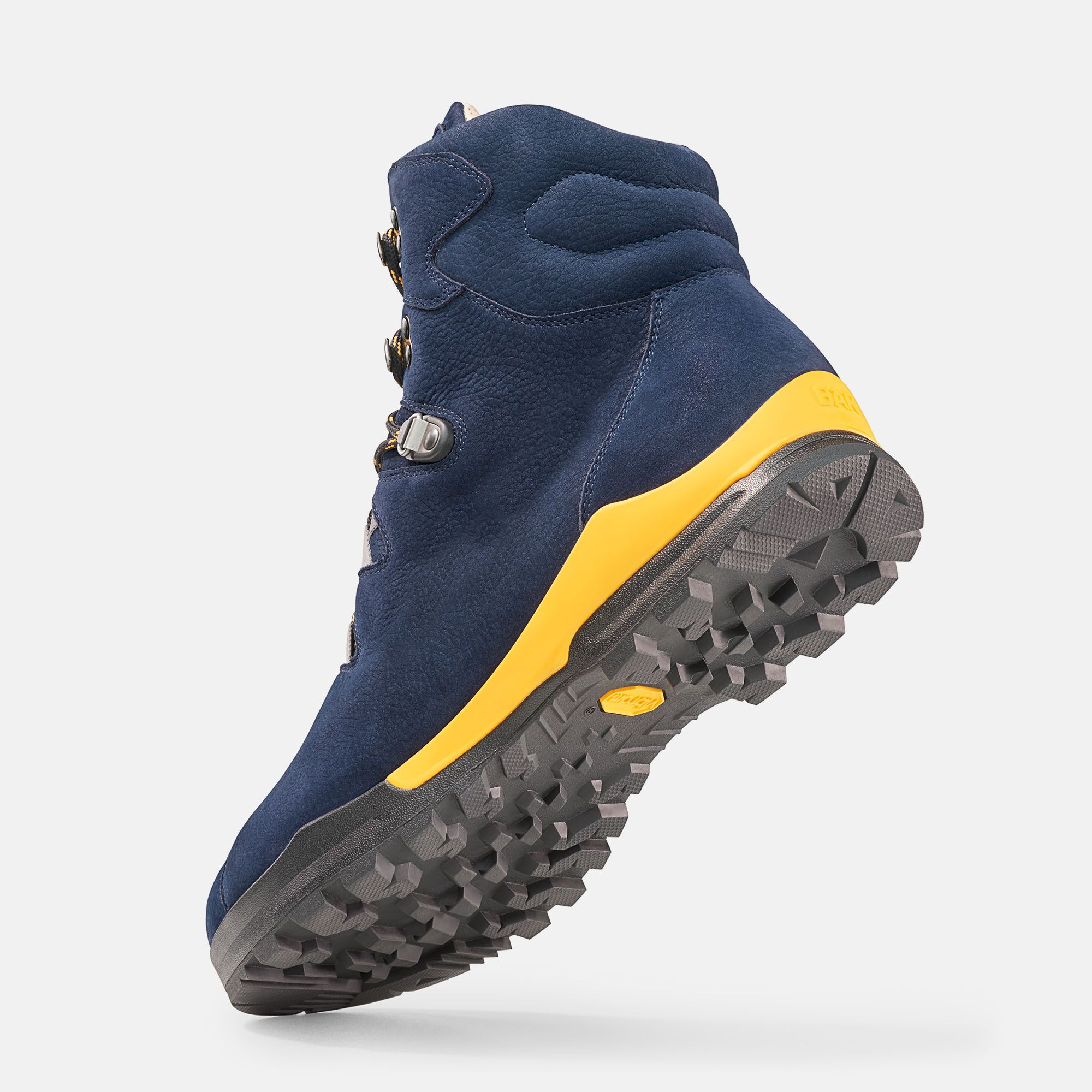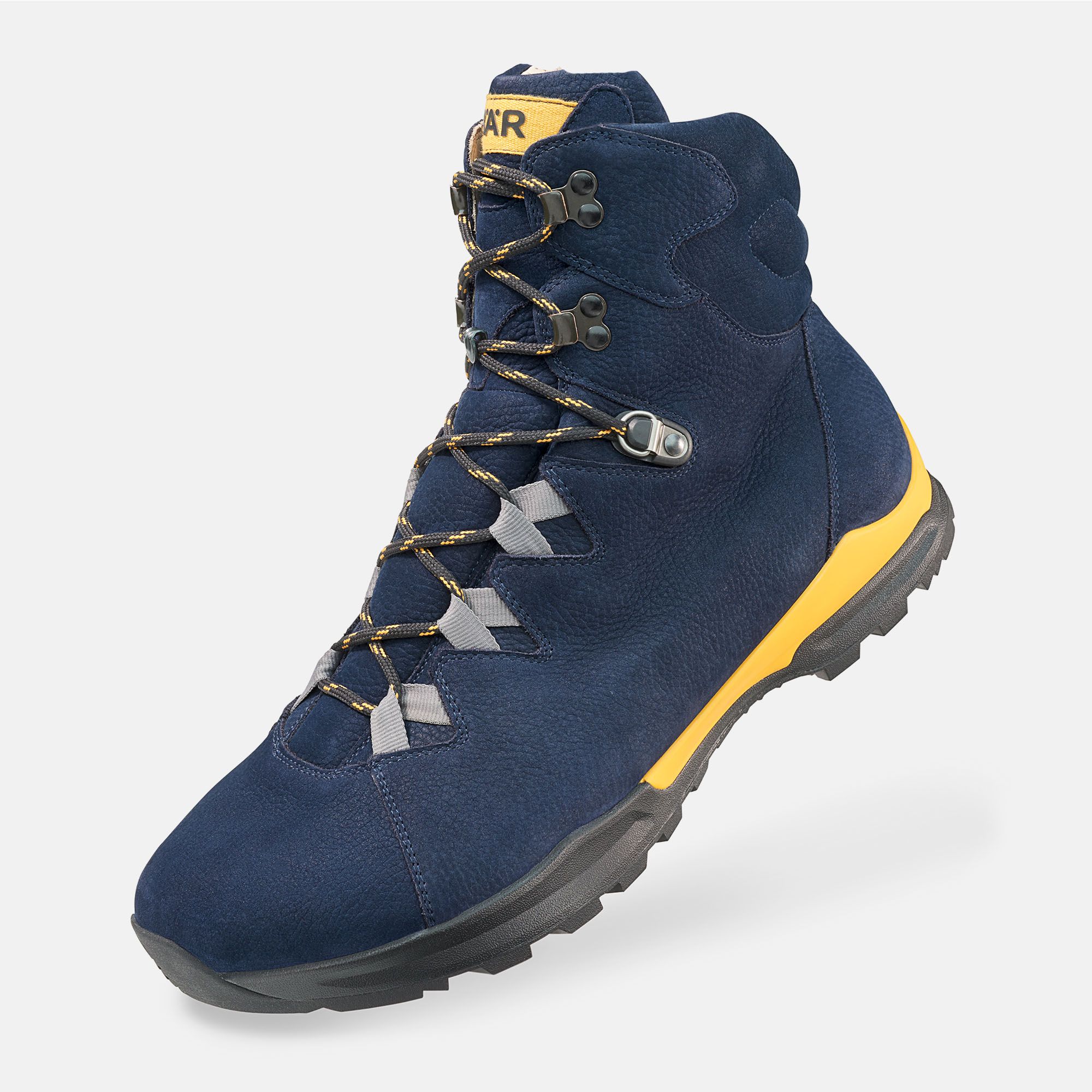 Bergkomfort Wanderstiefel
Item number:
1092-498-06,0
These comfortable walking boots guarantee you'll feel on top of the world: the light PU cushioning with joint support offers a natural, secure fit; the BÄRComfort footbed with fabric cover softens the step even further. The adapted tongue ensures that water, sand and stones stay out. Get ready for new horizons!
Deep-pull hook with locking function for lacing that lasts
New BÄR FIRMOFLEX®technology in forefoot
You can find detailed advice on buying your hiking boots and all the important facts here: Hiking shoe tips from BÄR
What does the fair2feet seal mean?
The fair2feet seal of quality is awarded after a successful audit of the shoe model.
The audit is conducted on the basis of the fair2feet quality system.
The fair2feet seal serves the customers of the shoe trade, online or statioinarily, as an aid in the search for a suitable shoe that meets their needs. You can find more information under
fair2feet
.
How is the testing of the shoes carried out?
The completely independent fair2feet - Institute for Quality and Certification first performs a computer tomography scan of the shoe models.
On the basis of the CT images, a precise, non-destructive digital measurement of the shoe interior is then carried out. The results lead to the transparency of the inner dimensions of the finished shoe, measured in millimeters. By comparing the actual dimensions determined with the manufacturer's size specifications and with the recommendations of the relevant international standards (ISO), it is finally possible to assess the dimensional accuracy.
The shoes are then subjected to an orthopedic examination using the fair2feet criteria catalogue, which, together with a summary utility value analysis, leads to a final point value result. If the audit is successfully completed and a correspondingly high score is achieved, this is the basis for the award of the seal.
In principle, the fair2feet quality audit follows the same analysis steps. The evaluation within the scope of the orthopedic audit then sets special accents for comfort or comfort shoes, for example in the assessment of toe clearance, the rolling space or the ball width of the respective shoe model.
Details
Fit
Normal to wide foot shape
Lining
Calfskin/heel textile
Removable footbed
Removable supportive 6 mm footbed, Viscolatex with textile covering
Upper material
Smooth leather
Outer material
Cowhide nubuck leather water-repellent
Weight ca. per shoe
575 gr
Soletype
Innovative, non-slip Vibram® HikeTec sole made of PU, rubber and TPU with integrated FIRMOFLEX technology in the forefoot for lateral stability
---
Dieser Schuh ist wie alle Bär-Schuhe bequem, vom ersten Tragen an. Leider aber nur bei schönem Wetter. Nach 6 Monaten gelegentlichem tragen, folgte leichter Regen und die Enttäuschung war groß. Zwischen Obermaterial und Sohle drang sofort Wasser ein und die Füße waren nass. Jetzt habe ich den Schuh nachbessern lassen und warte ab was bei der nächsten "Schlechtwetterwanderung" passiert. Ich gebe zu, meine Bär-Begeisterung hat etwas gelitten. Daran konnte auch der aufmunternde Hinweis vom Kundenservice, dass dieser Schuh nicht wasserdicht, sondern nur mit wasserabweisendem Material hergestellt wurde, nichts ändern. Aus diesem Grund bin ich mit diesem Schuh nicht zufrieden.
Dieser Schuh hat mein Leben verändert
Hallo zusammen, ich habe Plattfüße und immer schon ein Problem wegen den breiten Füßen Schuhe zu finden. Ich hatte schon alle "bekannten" Marken durch und keine Hoffnung mehr aber dann habe ich diese Schuhe empfohlen bekommen und bereits beim ersten Test habe ich gemerkt das die Schuhe halt geben und trotzdem super bequem sind ! Kein Drücken und der Fuß sitzt fest ! 100% Freiheit für die Zehenfreihet ist hier wirklich gegeben und kein leeres Versprechen.
Nach dem ersten Tragen hatte ich Zweifel, ob die Schuhe wirklich dem Namen "Bergkomfort" gerecht würden, denn ich hatte sofort Druckstellen an der Ferse. Nach ca. 80 km Einlaufen und vorsichtigem Weichklopfen der Ferse waren die anfänglichen Probleme jedoch behoben. So ging es dann auf 17 Tage Trekking im Himalaya mit 182 km, 10.000 Höhenmetern auf- und abwärts bis auf 5.600 Meter. Die Schuhe hielten dem schroffen Gelände bestens Stand, egal ob Staub, Schnee, Geröll oder Blockwerk. Auch die Vibramsohlen boten besten Grip auf dem unterschiedlichen Gelände, so wie das bei guten Bergschuhen der Fall sein sollte. Absolute Kaufempfehlung meinerseits.
Super quality. Very comfortable. I very happy to have this shoes.
Solider Schuh mit Mängeln
Ich habe mir den Schuh im Herbst gekauft als Wanderschuh im Mittelgebirge und vor allem auch für "schlechtes" Wetter. Der Schuh ist solide gearbeitet und optisch sehr ansprechend. Nun nach einem guten viertel Jahr testen (fast täglich damit unterwegs) möchte ich meine bisherigen Erfahrungen hier zur Verfügung stellen. Positiv: die Schuhe halten Nässe sehr gut ab, selbst beim Laufen durch Regen, Schlamm und diverse Pfützen kommt kein Wasser ins Innere - und das, obwohl keine Membran verbaut ist. Die Füße haben einen guten Halt und sind auch auf steinigem Untergrund gut geschützt. Dank regelmäßiger Lederpflege sehen die Schuhe auch noch sehr ordentlich aus und weisen keine überdurchschnittlichen Schrammen etc. auf. Negativ: Zunächst die gravierendste Eigenschaft, diese betrifft die Sohle. Diese ist überdurchschnittlich rutschig (im Vergleich zu anderen Schuhen, die ich nutze). Auf festgetretenem Schnee, Eis sowieso, aber auch auf nassen Steinen läuft es sich sehr unsicher, was für Wanderungen im Wald mit steinigen Abschnitten sehr einschneidend ist. Ich habe mir daher sog. Spikes gekauft, die es insgesamt besser machen. Die zweite zu bemängelnde Eigenschaft ist die Härte der Ferse. Bis heute trage ich daher doppelte Socken, da sonst die Ferse permanent drückt, vor allem beim bergan laufen. Es ist ein bisschen besser geworden, aber noch nicht verschwunden. Und als letztes noch ein kleiner Punkt: die Schnürsenkel sind sehr glatt, so dass sich die Schleife trotz festziehens immer wieder löst. Funktioniert nur mit Doppelschleife. Also ein paar andere Schnürsenkel bringen Abhilfe. Ich hoffe, meine Bewertung hilft bei der Verbesserung des Schuhs.
Geeignet für leichte Hochgebrigstouren
Habe mir den Schuh geholt für leichte Hochtouren. Universal Steigeisen gehen da ganz gut dran. Allerdings sollte man sich da immer klar darüber sein, dass über 30 Grad ein no-go ist, auch weil die hohe Flexibilität im Vorfuß gegeben ist -> absolut nix für Steileis! Meine Einschätzung nach Meindl wäre maximal B/C. Kantenstabilität dagegen ist super wegen der Firmoflex Technologie, großes Lob dafür, ist ne super Idee. Bequem sind die sowieso und warm auch. Da passt auch ein zweites dickes Sockenpaar rein. Komfort beim Gehen ist gewohnt super. Geröllschutz und Gore-Tex wäre die Sahnehaube auf dem Eis.